Hello!
SoCast is proud to share that we have recently upgraded our audio commenting feature. Our new design includes a larger 'record' button to make it easier for app and website visitors to submit an audio message.
Our optimized audio record button can be added to any page, contest, sidebar, blog etc, and was designed as a more visual option for the mobile apps, creating a more clear area for recordings and potential shout outs. This is a great option for apps to encourage more user engagement, and membership sign ups. 
You can use this new widget as a standalone option to collect audio comments, or in conjunction with the activity stream as a replacement for the existing audio comment feature.
As a reminder, this feature allows listeners the ability to offer feedback or respond to hosts' questions by recording a 30-second voice message. SoCast has offered this feature since 2014. 
To enable this feature go to any page, contest etc, and add the "Activity Stream Audio Recording" Widget.
To enable anonymous/member conversations for an Activity Stream, go to  Social > Activity Streams > edit your stream, and add 'Member & Anonymous Conversations'. Make sure to save.
Once the audio button is pushed, users can record their message. We offer a 30-second limit in order to make the soundbites radio friendly, however users can send multiple messages. A playback option is also available so users can listen to their message before submitting. We also offer options to re-record the message or cancel it entirely.
All audio comments can be found under Social > Activity Streams > Conversations. All comments submitted automatically come in as 'pending' if activity stream moderation has been enabled in the activity stream settings. We recommend this option to help prevent the system from being abused and to allow the host to monitor the recordings on their end.
Once the host has approved the submitted recording/message, it will appear within the Activity Stream if an activity stream has also been added to the sidebar, page etc. The great thing about our updated version is that you don't need to include the audio comments in the activity stream, and you can just collect them in the back-end to use on-air or for other promotional purposes.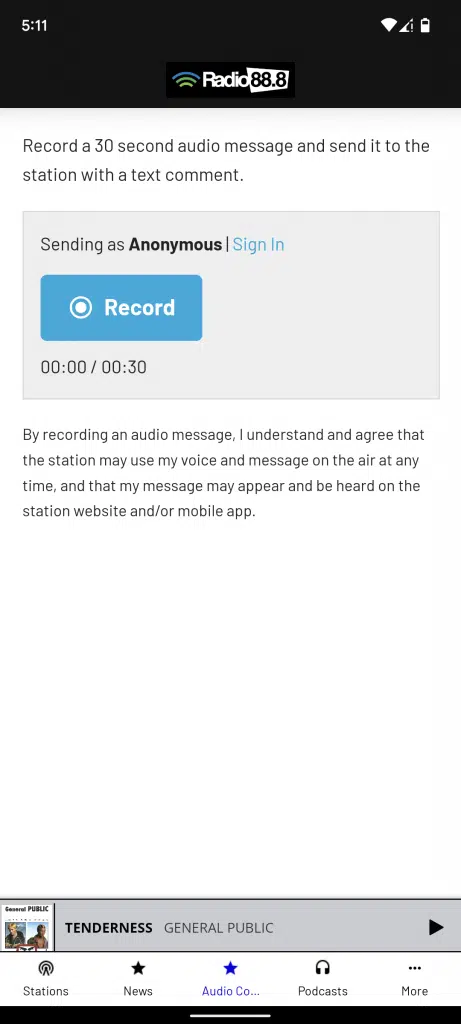 All comments can be rejected, with an additional feature that allows for comments from a specific IP address to be banned for 7 days within the Activity Stream Conversations tool. 
Comments can also be monitored and replied to within the Social > Monitoring tool by adding the Inbox stream. 
Users do not have to identify themselves if submitting anonymously. However those signed in as members (via our membership tool) are identifiable within the CMS by their member name and email address. Users signed in as members are also listed under the Promotions > Members tab where full name, phone number, email etc is listed from past interactions like contesting where this information is required.
All audio clips can be downloaded via the Activity Stream on the app (or desktop) once they are approved and appear within the Activity Stream. (We're working on making these downloadable within the CMS as well). From there you can then upload the audio to the Media Library, and use 'insert media' within pages, blogs or contests to embed the recording.
This feature is available to all clients with a SoCast app or website and is just one of the great benefits of your partnership with us.
If you have any questions, please reach out to support@socastdigital.com
Thanks,
The SoCast Team
*Artist images and song information provided via iTunes.