Hello!
SoCast has just released one of your most requested features, blog author byline removal and customization!
Starting today, you now have the ability to either remove or customize the author for blog bylines for your website.
"But Kat, how do I use it? Where do I find it?"
Easy! Below are the various ways you can now use this new feature.
Remove Author Bylines For All Blog Posts On Your Website
To do this, go to Website >  Blogs > Blog Settings > Blog Post Settings > Display Author In Byline > Choose 'Disabled'.
When disabled, the author will be hidden from the byline for all blog posts throughout the site.
Note: Changes to the blog settings can take up to 20mins to change/appear.

Customize Author Bylines Per Blog Post
To do this, go to Website >  Blogs > Create New Blog > Author > Enable Custom Author.
When enabled, the custom author appears in the blog post byline instead of the author listed.
The custom author can be used to credit guest contributors, or a third-party or generic content source, e.g. XYZ News, etc. Leave blank to hide the author from the byline for this blog post.
Note: If the byline is disabled in the blog settings, you cannot customize or edit the author per post. Changes to the blog post can take up to 10mins to change/appear.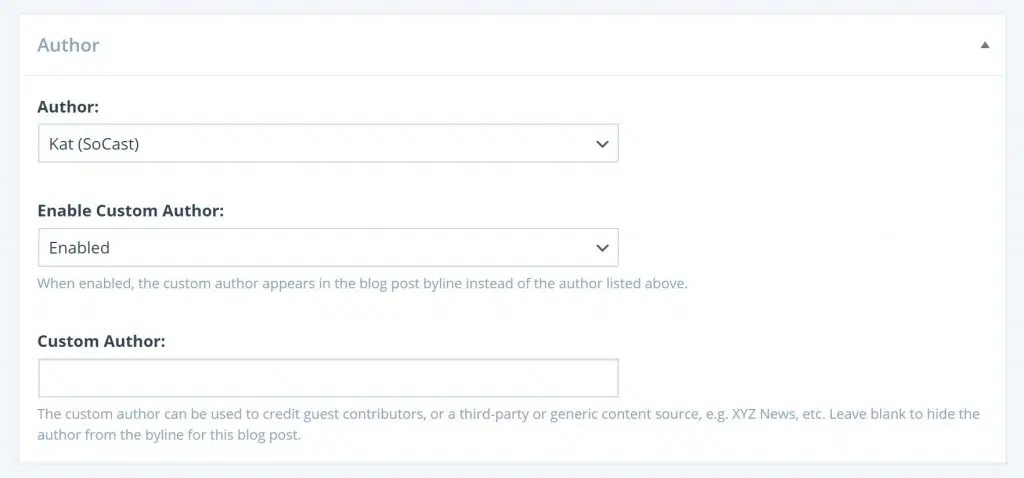 If you have any questions or would like assistance from the Client Success team, feel free to reach out anytime during regular support desk hours via support@socastdigital.com
Thanks!
Kat & The SoCast Team