Hi!
We're excited to announce brand new enhanced settings and options to the 'On-Air Now' widget!
Based on your feedback, we are excited to share that SoCast has made new updates to this widget that include a name change, it's now called "Current Program" and layout options with additional settings. As a reminder this widget pulls it's information from Player > Program Schedule. 
"But Kat, how do I use it? Where do I find it?"
Easy! Once in your page, blog, sidebar etc, use the WP Bakery option and search for the 'Current Program' widget. Within the widget, you'll see new customization options that include things like: program description length, the ability to display a listen live button, 9 different layout options and more!
The layout options are similar to the ones you're already familiar with for the blog list layouts, contest list layouts etc. By default, all Current Program widgets were automatically switched to the "Vertical Layout" as it most closely resembled the previous On-Air Now version. However, you can edit this at any time by selecting one of the other 8 layouts.
As a reminder, the "Now Playing", "Last Played" and "Broadcast History" widgets remain available for use and are unchanged at this time.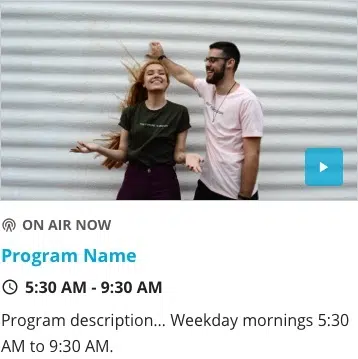 If you have any questions, please feel free to reach out to support, via the live chat or support@socastdigital.com
Thanks!
Kat & The SoCast Team